The Eiger
The Mountain with the Biggest North Face of the Alps
The 3970 m high Eiger with its famous North Face towers imposing above the Valley of Grindelwald. The peak is mentioned as "mons Egere" in records dating back to 1252 which makes it the first high peak of the Swiss Alps to bear a traceable name.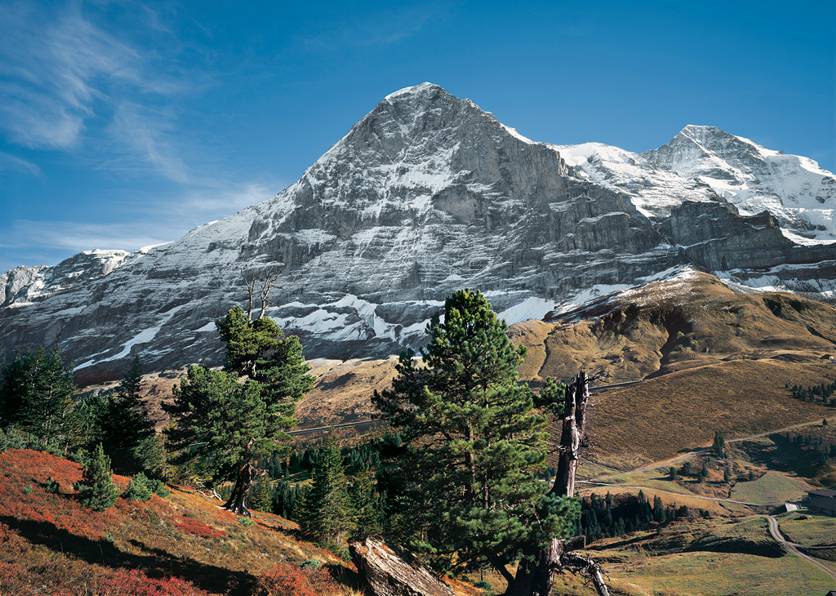 Notable Ascents
The first ascent of the Eiger was made by Grindelwald guides Christian Almer and Peter Bohren with the Irishman Charles Barrington who climbed the west flank on August 11, 1858.
On September 10th 1921 the first successful ascent by the Mittellegi rigde was made by Grindelwald guides Fritz Amatter, Samuel Brawand and Fritz Steuri with their Japanese guest Yuko Maki. In appreciation of this success Mr. Maki donated the Mittellegi hut to the Mountain Guides Association of Grindelwald. The hut was inaugurated in autumn 1924.
The Eiger North Face
By 1932 the Eiger was climbed by all sides. The last big challenge remaining was the notorious north face which was believed to be unconquerable. After many tragedies it was first climbed on July 24, 1938 by Anderl Heckmair, Ludwig Vörg, Heinrich Harrer and Fritz Kasparek, a German-Austrian roped party.
Eiger Movies
It's not astonishing that the Eiger served as scenery for numerous films such as "The Eiger Sanction", an action thriller directed by Clint Eastwood who also starred as Dr. Jonathan Hemlock. And lately in the Film "Nordwand" by Philipp Stözl. The movie tells the tragical story of an attempt to climb the north face by Toni Kurz, Andi Hinterstoisser, Willy Angerer and Edi Rainer in summer 1936.
The Mittellegi Hut
The hut of the Mountain Guides Association of Grindelwald is the usual starting point to climb the Eiger by the Mittellegi ridge. The hut is attended from July to September and offers 30 sleeping-places. There is an additional bivouac with 12 sleeping-places.
The Ostegg Hut
The Ostegg Hut located on a grassy shoulder at the norht-east rigde of the Eiger is also owned by the Mountain Guides Association of Grindelwald. It sleeps up to 12 people. The hut is not attended and reservation is requested. It is the starting point for the ascent of the Eiger by the north-east rigde.
The Eiger-Trail
The Eiger-Trail for Non-Climbers winds from Eigergletscher station along the Eiger mountain over steep scree slopes and alpine pastures down to Alpiglen. The trail is very well marked and can be done, of course, the other way round as well.