Jungfraujoch—Top of Europe
Jungfraujoch, Europe's Highest Railway Station
The unforgettable trip to the high-alpine wonderland at an amazing 3454 metres above sea level is the true highlight of a visit to Switzerland. The route to the Top of Europe covers 12 kilometres (5.8 miles). It runs through open terrain for only the first two kilometres (1.2 miles) from Kleine Scheidegg to Eigergletscher station. From there it climbs through a tunnel in the Alpine rock. Two observation windows offer breathtaking views of the Alpine landscape.
A High-Alpine Worl of Snow, Ice and Rock
The summit itself is a glacier-and-grotto world. Visitors are afforded excellent views of the Aletsch Glacier, with 22 kilometres the longest in the Alps. On clear days, you can even see beyond Switzerland's frontiers to France's Vosges mountain range and the Black Forest in Germany. Among other attractions are the Sphinx observation terrace, Ice Palace, Snow Fun Park and the adventure tour Alpine Sensation. The Jungfraujoch complex also includes restaurants, a souvenir shop, post office and even conference facilities - for "summit" meetings, of course.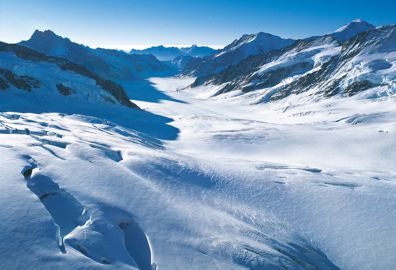 UNESCO World Heritage Jungfrau-Aletsch
The UNESCO World Heritage Site of Jungfrau, Aletsch glacier and Bietschhorn was designated on the basis of the following criteria: extraordinary natural beauty, outstanding examples of Alpine formation, and great diversity of natural features and natural processes.
Mountaineering, Ski Touring
Jungfraujoch is the ideal starting point for ski tours on the Aletsch glacier, such as the Lötschenlücke or ascents of the Jungfrau, Eiger, Mönch and numerous other peaks in the region. For the less experienced a hike to the Mönchsjoch hut might be the right thing.
The Sphinx Observatory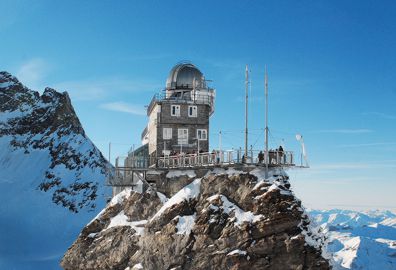 The new observation building on the Sphinx rock was inaugurated in summer 1996. The Sphinx building and observation terrace at 3571 mamsl stand 117 metres above the Jungfraujoch-Top of Europe and provide stunning 360° views. The facility is reached by a spacious double lift carrying up to 1200 persons per hour. The Jungfraujoch is not only a spectacular vantage point but also an excellent location for a wide range of scientific research projects. Astronomers, geologists, physicists, meteorologists and hydrologists contribute to environmental research.
The Ice Palace
The Ice Palace can be visited by every guest, even in the most stormy and Arctic weather conditions. Every year, a talented ice artist creates shiny new ice sculptures including eagles, penguins and polar bears.
Get information about Jungfraujoch Packages and Specials.