Männlichen
Whatever the Season — A Great Experience
Europe's longest gondola cableway takes you to Männlichen in half an hour. It just takes 5 minutes by cableway for the altitude difference of 930 m from Wengen to Männlichen. At the top you enjoy a unique view of Eiger, Mönch and Jungfrau.
You'll be in good hands at the Männlichen Mountain Guest House. Fine food and friendly service will surpass your expectations!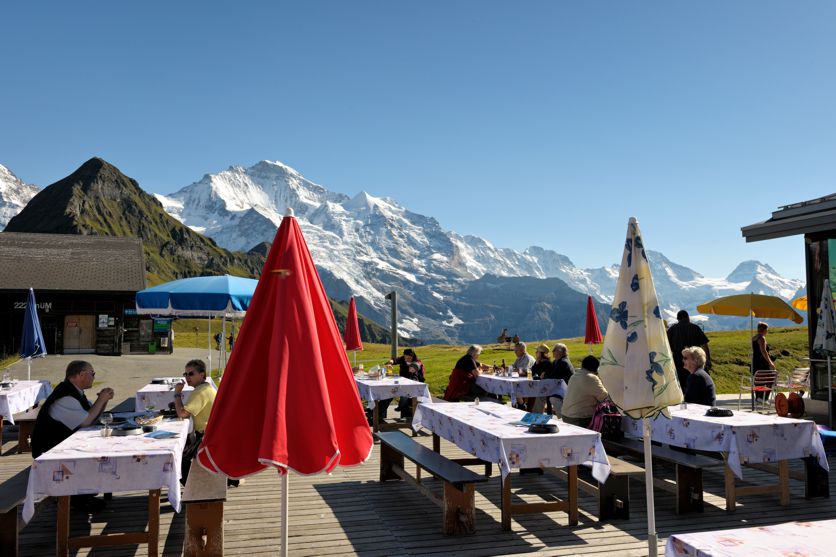 Ski and Snowboard
Männlichen slopes offer to skiers and snowboarders a remarkable range of runs. Modern transport facilities and superb pistes promise many happy hours of snow fun. The Männlichen ski area links up with the facilities of Kleine Scheidegg and Wengen. At Intersport Rent-Network Männlichen you can get the ideal equipment and best service.
Winter Hiking
Winter walking lets you take the time to admire the stunning snowscape, to gaze at the glorious white giants and enjoy winter sunshine. A short but rewarding uphill walk leads from the summit station to the Männlichen peak. Another easy, well-prepared path runs from Männlichen station down to Holenstein middle station. Walking time is about 1 hour. From here you can either hike down to Grindelwald or take the aerial gondola. A wonderful winter-walking path leads from Männlichen to Kleine Scheidegg. The 2-hours walk crosses the nature reserve of Arvengarten with its beautiful old mountain stone pines. Kleine Scheidegg is then reached by a 30-minutes hike or by an easy ride on the Arven chairlift.
Hiking
Breathe in the fresh Alpine air from the Eiger North Wall and enjoy the aura of the Jungfrau. Hiking is by far the best way to discover the magic of our mountain world. Männlichen has a host of hikes to suit all tastes — whether you prefer short or long, wild, tame or tough! And all are equally impressive. Some paths like the alpine road between Männlichen and Holenstein are suitable for wheelchairs.
Mountain Biking
Grindelwald's surroundings are marvellous for mountain bike tours. One route to remember leads from Grindelwald Grund up to Männlichen. You pedal up small alp roads to Holenstein either directly or via Brandegg and then along an unsurfaced track. Many shady spots en route are perfect for a well-deserved pit stop. But the best is yet to come: The swift downhill run to Grindelwald! A shorter tour leads from Grindelwald Grund via Holenstein to Brandegg and back down to Grindelwald. Please note: Transport of mountain bikes or similar equipment is not provided by either Grindelwald-Männlichen Gondola or Wengen-Männlichen Aerial Cableways.
Helicopter Flights
Treat yourself to high-flying fun at Männlichen. During the winter season you can board a helicopter of Swiss Helicopter AG at the airfield at Männlichen and soar away for a breathtaking bird's eye view of mountains and glaciers. The fantastic round flight opens up spectacular perspectives, eye to eye with the Eiger North Wall. Heli-skiing from Männlichen is available as well.