The Jungfrau Region and Grindelwald in Wintertime
Winter Activities
In the famous resorts Grindelwald, Wengen and Mürren winter sports have been popular for more than a hundred years. Pure snow-sport pleasure at the foot of the Eiger Mönch and Jungfrau, thanks to top snow conditions and the latest technology.
Skiing, Snowboarding
An extensive network of more than 44 mountain railways, aerial cableways and ski lifts takes you up safely to over 200 km of perfectly prepared slopes with downhill runs of 6 to 12 km in length. 40% of the slopes are equipped with snow-making machines.
Enjoy some skiing-videos.
White Elements Snow Park in Ski Aera First:
A superpipe and a snow park with multiple lines, small kickers, big kickers, different rails, boxes, jibbs — everything on one run of 650 metres.
Along the slopes numerous cosy mountain restaurants and ski bars like the rustic Holzerbar offer refreshments, drinks and savoury meals.
Lauberhorn Ski Race
The FIS Lauberhorn ski race with a downhill race and a slalom takes place annually in Wengen. It is the biggest winter sports event in the Jungfrau Region. The Lauberhorn downhill race has taken place since 1930 and has become a classic of the FIS World Cup. Its length of about 4.5 km, race times around 2:30 min and top speeds close to 160 km⁄h make it the ultimate challenge for the athletes.
Get information about Skiing Packages and Specials.
Sports on Ice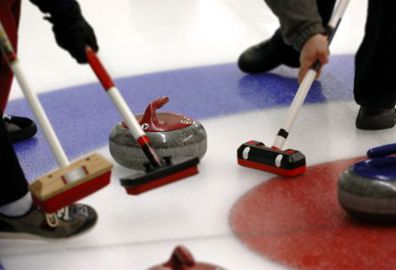 The region offers a variety of sports on ice like curling, skating and ice hockey on natural and artificial rinks. All resorts offer taster courses during the winter season.
Get information about Ice Sports Packages and Specials.
SnowpenAir
Every year the SnowpenAir takes place at Kleine Scheidegg at the end of March. That concert has meanwhile become the biggest open air music event in Switzerland during wintertime and is a must to many fans of popular music. The open-air stage is next to the station Kleine Scheidegg with space for about 10'000 visitors.
Tobogganing, Sledding
Numerous runs guarantee great fun for sledging fans. The run from Faulhorn to Bussalp and finally to Grindelwald is certainly a highlight. With a length of 15 km and a difference in altitude of 1600 m it is the longest sledding run in the Alps.
Night rides after a tasty cheese fondue will be an unforgettable experience.
Don't miss to have a go on the Velogemel the unique snowbike of Grindelwald.
Have a look at some sledging-videos.
Winter Hiking
Explore the mountain scenery by walking. 100 km of well prepared winter hiking trails offer everything from the village promenade at 800 m above sea level to the summit hike at 2600 m.
Get information about Winter Hiking ⁄ Sledging Packages and Specials.
Snowshoeing
Dive into the fascinating mountain panorama. Experience that feeling of peace, freedom and physical exertion in a relaxing, stress-free way. In Grindelwald you will find 6 well-signed paths that are safe from avalanches and acknowledged by the gamekeeper. A great experience to anyone from beginner to expert.
Cross Country Skiing
The Alpine topography allows little space for Nordic cross-country skiing but in Grindelwald Grund are 17 km of cross-country tracks for all levels. (classical and skating)
Get information about Snowshoeing, Cross Country Skiing Packages and Specials.